Vance Fabrication LLC
Mobile welding and fabrication
Who We Are
My name is Dallas Vance and I am the owner of Vance Fabrication LLC, a licensed and insured, fully mobile welding and fabrication business.
I was born and raised in Okanogan, WA and grew up hunting and fishing with my grandfather. My professional career started with 20 years plus in the General Construction trade and about 3 years ago, I was given the opportunity to become a welding apprentice. Within the first week I knew welding was my niche, my passion. Do what you love right?
In 2022 my wife Candace and I decided to open Vance Fabrication LLC. Our driving reason to start the business was for my wife to be able to quit her 10 hour a day job to stay at home and homeschool our 3 children. Family is everything! We sold our home in Tonasket, WA and relocated to Colville, WA to make our dreams a reality.
I'm a local, hard working, "blue collar", God fearing, family man who takes pride in and loves what he does for a living. For the last 3 years I've worked at Vaagen Lumber Mill in Colville as one of their primary welders. During that time we have finished projects such as handrails, catwalks, conveyor towers, and log bunks. We have also built a Gantry Crane, a log squeeze, and constructed hose and fire wheels along with numerous other projects. In addition, we demoed a boiler, and also demoed and rebuilt a 100' x 100' building.
We are proficient in Stick and Mig Wire welding. We are also highly experienced using a Plasma Cutter, and Acetylene Torch. I'm also skilled at Air Arcing. Blueprints are read with precision and I pride myself on quality and efficient work. I'm a confident contractor on any job, and I feel that my construction background has given me a leg up in this industry.
If you are looking for a professional welding service without the heavy cost of overhead, consider giving my small town, family-owned business a chance.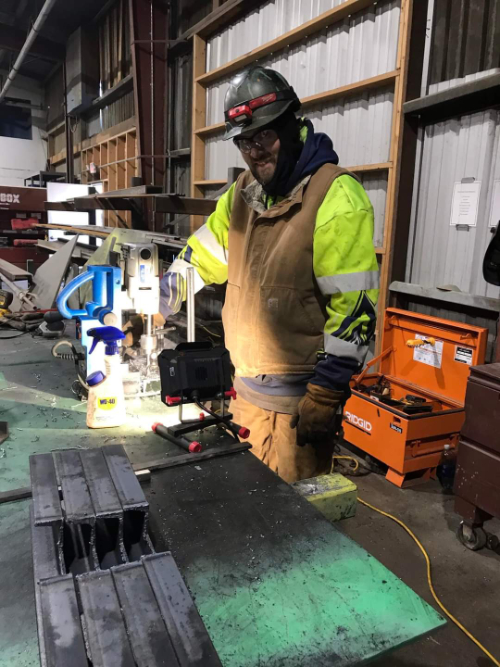 Contact Us
For more information about our services please fill out the form below or give us a call.
(509) 429-4935
24 Hour Service Available